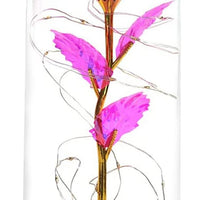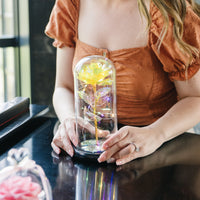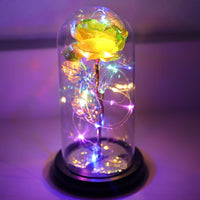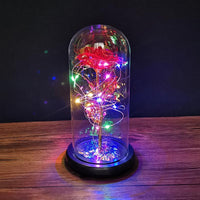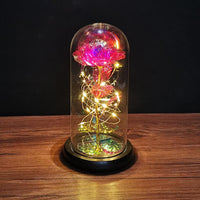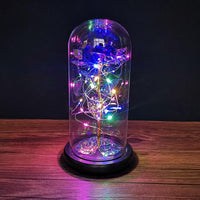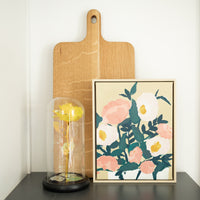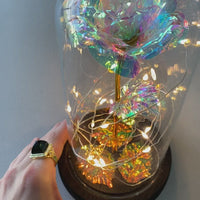 Leleyat Fleur Galaxy Rose in Beauty and the Beast Dome - 24K Flower Gift - Light Up Rose with LED Colored Lights Doubles as Nightlight
Description
An Enchanted Rose for a Special Someone - With its magical aesthetic reminiscent of a fairytale setting, our 24K intricately designed LED rose is surrounded by tiny galaxy lights and placed in a beautiful glass dome.
Enchanted Rose For the Woman That Deserves Magic - A Beauty and the Beast rose in glass dome will wow any woman or little girl that's a fairytale enthusiast. Our galaxy rose flower gift will speak for itself with its intricate detail and magical glow.
Doubles As a Nightlight - The inner wooden base is embedded with a strip of tiny LED lights, powered by 3 AAA batteries (which are not included). The soft light is warm and calming, but bright enough to lighten up the space.
Illuminate Any Space - Centerpieces at a Disney-themed birthday party, a bedroom nightlight, or a decorative rose globe - whatever atmosphere you're aiming for, the LED lights are available in various colors - pink, blue, yellow, and more - so you can get it right.
A Present of Enchantment - Whether you're looking for a Christmas gift for girlfriend, something special for Mother's Day, or a flower light for a little one, this rose gift is a unique, eye-catching, and memorable one.
Information
Our rose bear's are the perfect gift idea for the special someone in your life. Give a gift that will make them smile and think of you. Perfect for graduations, anniversaries, or the little kids in your life. All of our rose bears are handmade from artificial flowers and built to last a lifetime.
THE CHERISHED COLLECTION
Our cherish collection is a nod to our company's roots and everything Leleyat stands for. An ancient Russian word, Leleyat, means cherished or adored. This collection shows the most precious people in your life how much they mean to you.